Our integrated
logistics service
ELECTRONIC KANBAN SERVICE
Dalmar have been offering a KanbanBOX service for a number of years to help our customers manage their supply process. When a company needs to buy numerous components from their suppliers it is important to implement a system that reduces inventory and order management to a minimum without ever running out of stock.
Kanban is a Lean Production method that enables Pull Flow of materials. It consists of a card fixed to a container holding a predefined quantity of a component, and including all the necessary information for purchasing, producing, or dispatching the component through the production system. Only after the materials have been consumed is the card forwarded to the supplier who then replenishes the consumed goods. This is why the flow of materials in a Kanban system is referred to as "Pulled": the replenishment of a component is only authorized after it has effectively been used.
What is electronic Kanban?
The e-Kanban system is a methodology for electronic information exchange that is integrated into your company and those of your suppliers, eliminating the need for complex order management systems.
With the KanbanBOX integrated logistics system, Dalmar offers an articulated customized Kanban sales service that guarantees efficiency, flexibility, and support:
Eliminates urgencies and down time
Real time consumption monitoring
Reduced component inventory
How does it work in real life?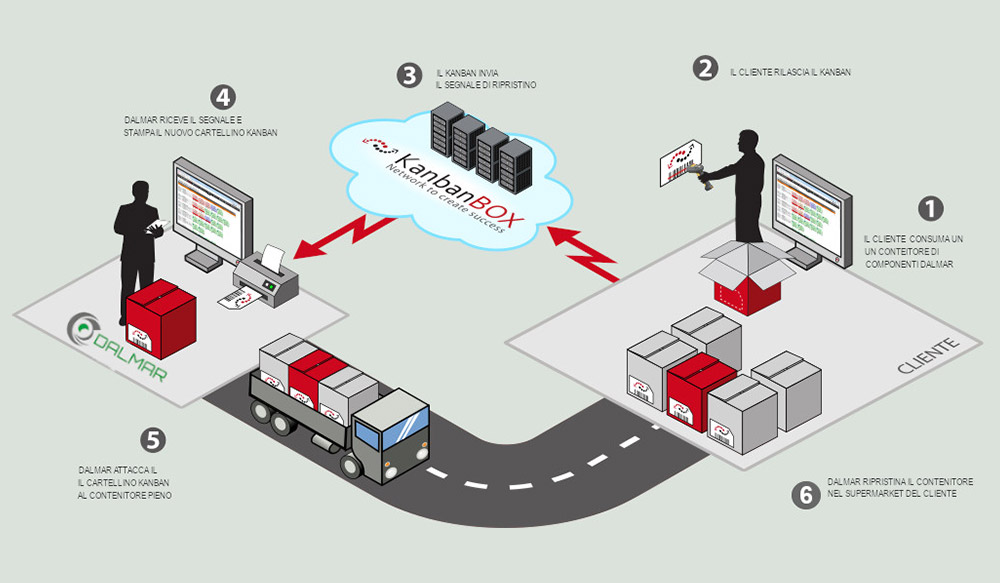 The customer finishes a container of Dalmar components
The customer releases the Kanban
KanbanBOX sends a resupply signal
Dalmar receives the signal and prints a new Kanban card
Dalmar attaches the Kanban card to a full container
Against a minor investment, the customer can redefine their logistics model and react with maximum sensitivity to market changes with a reduction in lead time of up to 50%.
A reduction in errors deriving from manual management of up to 90%
100% traceability of materials
100% feedback from suppliers
Reduction of inventory from 20% to 40%
70% less time required for Kanban maintenance
Support and initial shared analysis of scaling, needs, and lead times
WEB access to info about Kanbans operating with Dalmar
Web interface display extendable to an unlimited number of workstations
Analysis of the code readings that integrate best with the Kanban concept
Contact us for more information on our services