Italian leaders in the
distribution of industrial
solutions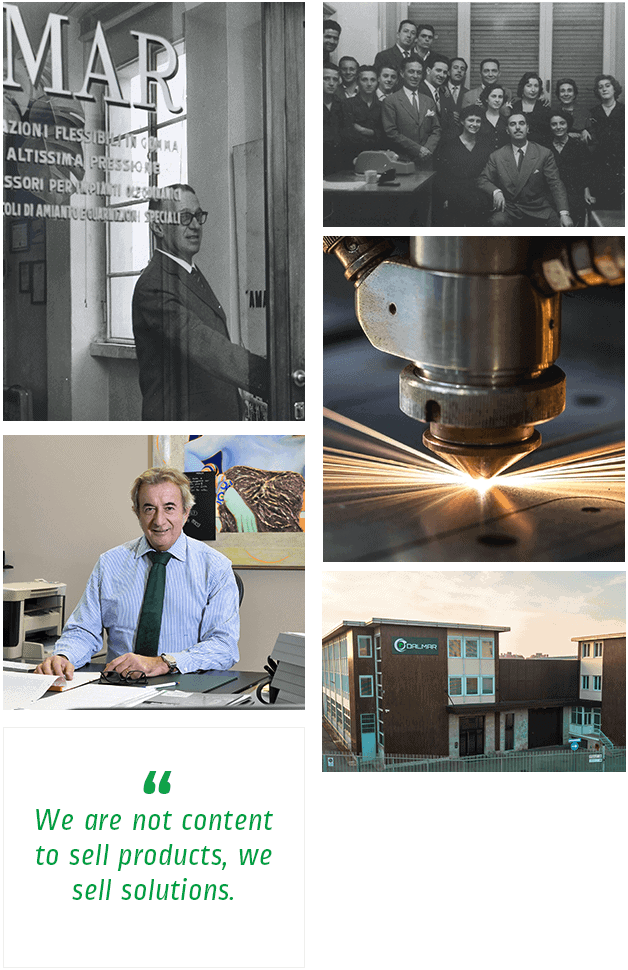 Turning your dreams into
reality for more than 70 years
Dalmar's history is interwoven into the history of post-war Italy and the brave and inventive individuals who put together today's industrial fabric, brick by brick – among them Professor Giuseppe Genovesi, founder of the Dalmar Group.
Over seventy years
within hidden heart of society
and proud to be there.
Founded in 1949 by Professor Giuseppe Genovesi, Dalmar started business in the industrial piping sector with just a small base in Milan, two collaborators, and a bicycle for deliveries.
We have since become Italian leaders in the distribution of products designed for seals, clamps, hoses, vibration mounts, and tools and torque in the most complex industrial applications.
Our old bicycle has travelled a long way!
Today DALMAR SpA is an Italian group with 75 employees and over 10,000 m2 of offices and warehouses, designing and delivering tailor-made solutions for companies all around the world.
WE HAVE NEVER LOST OUR PASSION FOR OUR WORK
combined suppliers
and distributors
who rely on us
less co2
Following installation of solar panels and the latest generation heating and air conditioning systems
QUALITY,
UNFAILING COMMITMENT
Our commitment has always been to maintain high company quality standards, resulting in a well tested organizational model certified ISO 9001: 2015 to guide our company activities and ensure reliable products and services over time.
We deliver the best solutions to our customers, ensuring flexibility, efficiency, and reliability.
We sustain the highest possible levels of innovation through constant and effective collaboration with selected partners.
We strive each day to improve and maintain our distinctive and acknowledged business identity, with dedication to our customers remaining the founding philosophy of DALMAR for 70 years.
We are always committed to offering zero environmental
impact industrial solutions.
Dalmar believes in the value of social solidarity
and the gift economy.